Medicaid Planning – When does it make sense?
In recent years, many of us have been faced with a friend or loved one needing some level of skilled nursing care. The average cost of a nursing home is around $9,000.00 per month.
Not all cases require sophisticated "planning". If a person does not have any assets and is already financially qualified under the Medicaid rules, there is no need for sophisticated planning.
Can the Medicaid application system be navigated alone? Maybe, however the time necessary to compile the proper documents, file the application navigate the state processes and deal with state caseworkers and understand what they need and understanding the legal issues and documents necessary to submit can be time consuming, as well as emotionally and mentally draining.
Planning involves "Planning". Not just getting eligible.
The primary hurdle involves understanding how to apply the Medicaid rules related to shifting, gifting and spending. The term for this type of strategic "planning" in the financial, geriatric healthcare, and legal world is "Medicaid Planning".
The federal law allows certain transfers and shifting of assets to gain eligibility for Medicaid while still having access to those funds by the applicant or certain family members. These are referred to as Medicaid Planning techniques that should only be considered when assisted by a competent elder law attorney.
Medicaid "planning" involves more than just getting a person qualified for Medicaid and submitting an application. Medicaid "planning" involves understanding pre-eligibility as well as post-eligibility impacts of using planning techniques. Impacts on legal title to your property, taxes, and your estate plan.
Beware of the Medicare "Myth" – Medicare only covers rehabilitation for limited period
Most people over the age of sixty-five (65) think Medicare will pay for all costs associated with skilled nursing care. In reality, Medicare does not pay for skilled long-term care. Medicare does provide home care and rehabilitation in a skilled nursing facility, but on a very limited basis (Up to the first 20 days of a "rehabilitation related" stay is 100% covered. A co-pay applies to days 21 to 100. The coverage is under Medicare Part A skilled rehabilitative care services. It is available only after being "admitted" for a "qualified" hospital stay for a minimum of three nights. The maximum coverage is 100 days after the "qualifying" hospital stay.
Medicare does not pay for long-term custodial care. That's where Medicaid long-term care programs can help. Medicaid has programs that will provide benefits to help pay for: 1) a person to receive certain types of care at home, 2) assisted living facility room & board, and 3) nursing home care.
Under Medicaid rules certain assets can be kept and still qualify
One of the biggest public misconceptions is that a person must get rid of all assets in order to qualify for Medicaid to pay for nursing home care. In fact, a person over the age of sixty five (65) can keep certain assets and still qualify for Medicaid public benefits! Medicaid "Planning" is not simply placing funds in an annuity, giving it all to a friend or relative, or using one legitimate sheltering devices.
Planning is just that … Planning.
Medicaid "Planning" should be viewed as a complex formula and mix of variables and options, tailored to meet the person's unique set of circumstance while obtaining the highest quality of life possible by preserving the assets Medicaid allows.
Medicaid Planning is a team approach
It is wise to get the right, competent advice. Assemble a team of advisors that includes an experienced Elder Law Attorney who understands Medicaid laws, your financial advisors (accountant and investment broker), and healthcare professionals (Geriatric Care Manager and physicians).
---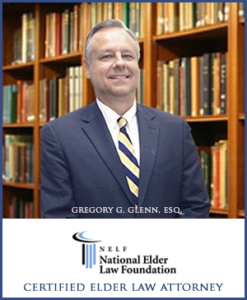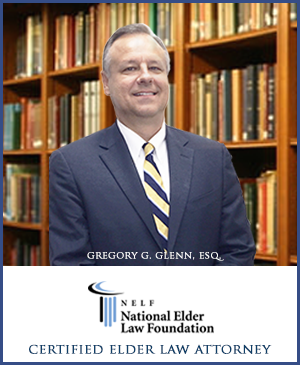 Gregory G. Glenn, Esq. is a Certified Elder Law Attorney by the National Elder Law Foundation. He has practiced elder law since 1995. Prior to law school Mr. Glenn worked as a management consultant at the Big Eight accounting firm of Coopers & Lybrand, CPA's and also at Dunn & Roth, CPA's as a staff accountant. He has his law degree from MSU and completed his legal studies at the University of Miami School of law. His focus in elder law is on estate planning for the over 65, disability planning, probate, and Medicaid eligibility planning. His office is in Boynton Beach, Florida.